College students not only have to figure out how to cover the cost of books and tuition, but they need to somehow survive on a pittance.
Many end up dropping out because they just can't deal with being broke much of the time and having to watch friends who have full-time jobs flash the cash.
Not you, though. With smart planning and determination, you can make it through to graduation. Yes, you can.
There are 10 heavy duty savings tips to help you think differently about finances and make it through college with money to spare!
1. You Can Cash in on Move-Out Day!
The end of spring signals an exodus of students from college campuses everywhere.
Some are off to jobs, some to further schooling, and some will return in the fall. But all of them will have a problem to deal with: too much stuff.
Here's how you can not only get your own furniture and supplies for free, but even set yourself up to earn money from your efforts when fall rolls around.
Cash in 

on Move-Out day!
Plan ahead. Most of the action will occur during finals week and the week after.
You're not limited to your school. Check the schedules of neighboring colleges too. Maximize the opportunity.
Determine your route. Map out areas that house abundant student populations.
Get to know the maintenance people at those properties. Ask them about move-out time and whether it would be okay for you to help dispose of items left behind. Most will be overjoyed to get some assistance. They know the area is going to look like a train wreck after finals week and dumpsters won't hold it all.
Set up your hauling equipment. You may be wise to rent a U-Haul truck or trailer. Generally speaking, the quicker you can collect throw-away items and the more you can get per load, the more you'll profit. Crunch the numbers. Be advised that some storage companies offer a free truck with a storage rental. See step #7 for more tips on storage.
Arrange help in advance. The number of extra hands needed will depend on the size of your truck and/or trailer. You may even want to run two or more crews – especially if you're planning on collecting enough to store and sell later.
Arrange storage in advance. If you try to sort and distribute the items while you're collecting them, you're going to severely cut into your optimum collection time. Load it, haul it, and store it. Sort it later. If you don't see specials being advertised, it often pays to ASK. You can even play companies against one another. Many are willing to meet or beat quotes from competitors.
Get your packing supplies together. Start early to collect boxes and bubble wrap. Break them down flat, sort them by size, and get plenty of strapping tape. Compare prices on necessary supplies at local stores and online. You'll want sturdy tape dispensers and good quality tape. You're not looking for furniture only, but for table settings, appliances, and décor. You can even collect leftover detergent, paper goods, and such. You may also need an appliance dolly.
Visit local thrift stores to get an idea of how much used items are selling for. Let your imagination go wild. Can you collect $1,000 worth of goods? Even more? It's entirely possible. One person's junk is another person's treasure.
Starting a few weeks before finals, get the word out that you're willing to haul and dispose of stuff for free. Many students know they have to clear out their belongings and won't be able to take it all. They'll be overjoyed to arrange for you and your helpers to come pick up the overflow and haul it off. You can start setting appointments early. Get creative about where to tack up your notices (with tear-off phone numbers). Use social media and forums for free online advertising.
Once you've collected a storage unit full of goods, you can begin selling right away. Much of what you gather is in demand by non-students. Everyone needs a sofa, television, or bicycle. Take advantage of Craigslist and local bulletin boards.
When fall rolls around, be sure to get ads up early to let students know you can help them with special prices and a delivery service for their must-have items.
2. Check Local Banks for Cash Giveaways
Banks love to see college students open accounts. They know that once trust is built and excellent customer service provided, you could end up being a customer for life – one with a rapidly expanding income after graduation.
You may have already built that special relationship with your hometown bank, but don't let that stop you from looking around to see what the banks in your new locale are offering.
It's perfectly fine to have more than one account, especially if your new account comes with benefits.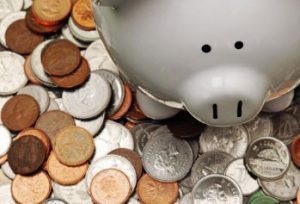 Here are some of the specials we've seen banks offer students:
Deposit a certain amount and get hundreds of dollars added to that account (free) once you've maintained it for a certain period.
No monthly charge for student checking and savings accounts and no minimum balance to get the deal
Free paper checks, free money orders, free cashier's checks, free debit card and other standard banking services
Make sure you understand all requirements and stipulations before signing. Some of the offers may seem too good to be true, but banks really do sometimes pay you to do business with them. Why miss out?
3. Eat for Free On Campus
There's a well-known maxim event organizers are keenly in tune with: "Feed them and they will come." You may hate fine art, but what if that Friday night showing includes free wine, cheese, and hors d'oeuvres? Would that perk up your interest a bit?
Just about every meeting, special event, or other gathering you see advertised on or near campus is going to include some form of food. It may be pizza and soft drinks, sandwiches and chips, or just soup and bread… but it's food, and it's free!
Here are some pointers on how to uncover and take advantage of those

special occasions:
Pay attention to the zillions of posters you see around campus. Get in the habit of scanning them all for event announcements. You may love heavy metal music, but if the local blues club is putting on a free buffet, you may want to expand your musical exposure. Avoid the trap of only reading posters that appeal to your personal tastes.
Check your school's roster of clubs and club meetings for topics of interest. Of course, the primary reason for attending should be to join others in a common cause, but there's nothing wrong with getting fed while you're participating.
Scan school publications and websites weekly to find out what's happening.Most will have a special section for meetings and events. To find out in advance who's serving what, just ask. One more time: event organizers know food is a big drawing card, and they love to play it.
We're not advising you to become an expert on scavenging food or to barge into social gatherings without concern for others. The point is there's free food available all over campus. Why not eat it?
Click here to read the full article and check out the rest of the ways you can have more money!