A life of financial success begins
with a
strong education.
Put your finances on the right path. Financial Avenue offers a range of online courses to help students and adults gain life-long knowledge about the basics of personal money management.
Online financial training to
prepare you for the road ahead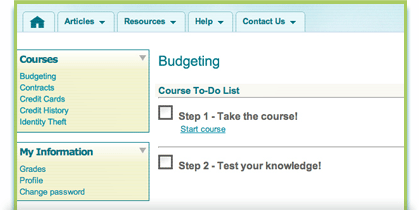 From Budgeting to Credit Cards to Identity Theft, convenient online courses help participants learn the basics and put what they learn into practice.
Convenient Online Courses
easy to access and ready when you are.
Start by entering your school or organization's access code to create your account.
---
Who Uses Financial Avenue?
---
Now, more than ever, it's important to learn how to manage your money. That's why parents, schools and organizations trust Financial Avenue to guide participants through smarter money management.
Sign Up - start your jorney
About Financial Avenue
Financial Avenue is an online learning environment that empowers students and their families for a lifetime of success. Financial Avenue emphasizes the role of financial literacy education and default prevention services in achieving that goal.
---