A budget can be a freeing thing. Sure, a budget sets limits on what you can spend your money on, but it also lets you buy or experience things you might otherwise not allow yourself to.
To be honest, unless I have my budget written out — and I know my mandatory expenses are covered by my income each month — I wouldn't spend a dime on fun stuff. I'd be too concerned that I'd spend more than what was in my bank account!
Budgeting saves me all sorts of stress: I can be responsible (paying those bills!) and enjoy my 20's (yes to brunch with friends!).
I like going to concerts and buying music. I like good food, nice boots, my gym membership and traveling. I budget $10 per month for music, anywhere from $40-80 on restaurants, plus $35 for entertainment. These budgets have been fairly consistent since I graduated from university over four years ago.
However, one category of my budget has changed significantly:
Clothing.
(Cue my face grimacing as I write this.)
The problem.
When I graduated from university in 2012, I was eager to build a new wardrobe — one for the young professional persona I was hired to be. I set a budget of $100 a month for clothes. And you know what? I spent $100 each month.
By the end of 2013, I looked at my expenses from the previous year, only to find that I had spent $1200 on clothes in the last year. Yikes, that's a lot of money!
How in the world did I spend $1200 on clothes and still not have a wardrobe that I loved to show for it? (I'm getting mad just thinking about it.)
I never would have guessed that my budget would be to blame. My budget accidentally gave me too much room to spend money on what I really didn't need.
I didn't realize what I was doing: if I hadn't spent all $100 one month, I'd make a trip to the mall. I didn't have a game plan for what I'd buy, I'd just go because I had given myself an "allowance" to do so. I'd go, I'd buy and I'd add to the clutter of my closet.
I spent so much money on clothes because I had allocated that much in my budget.
Well, it all got out of hand. Clearly.
Looking back, I bought a lot of clothes I didn't care for. I wasn't intentional about my purchases. They were half-hearted, absentminded.
The solution.
Once I saw that "$1200" total on my computer screen, I stopped. Something would have to change. I wasn't going to "accidentally" spend that much on clothes again.
Disclaimer: There's nothing wrong with spending money on clothes, if you have the money. And even though I paid off my credit card each month, and the funds were allocated in my budget, I personally decided that there were better places for my money to go. Those funds would have been really great for paying down my student loans. But no: because, clothes.
I've decided to be more intentional with my clothing choices. I'd rather own clothes that I love wearing, plus I want them to coordinate well with other pieces already in my wardrobe. You could say I have a "capsule wardrobe." I don't need lots of trendy clothes to feel fashionable — a simple black dress, cognac leather booties and a grey knit scarf can be worn for almost any occasion!
Valuing quality over quantity means I own less, too (which is great because I have a tiny, tiny closet).
I use Pinterest to find those core items that'll bump up my wardrobe but not go out of style in a few months or years. Instead of aimlessly perusing the mall, I now keep a "wish list" on my phone of items I'm looking for. I take my time finding these items, since I will plan to have them for a while.
It's delayed gratification, but I think the gratification of owning pieces you really love pays off.
Lastly, I've decided to lower my budget for clothing each month.
Since my budget was to blame for my "overspending," I wanted to close the gap in my budget to reflect what I actually feel comfortable spending on clothes. So now my $40-50 clothing budget rolls over from month to month.
I shop every few months, removing that "use it or lose it" feeling that I used to have. It's way more fun to go shopping when I have money saved up and I know what I'm looking for!
Ultimately, my long-term view of my money has changed, along with some of my habits:
I no longer shop aimlessly.
I budget based on what makes me feel comfortable.
I choose quality over quantity.
I take my time with purchasing clothes. Goodbye, fast fashion.
I think less about shopping, since I go shopping less often. It's rarely on my mind.
I'm paying more toward my student loans each month.
Have you taken a good look at your budget? Is your budget supporting any bad habits you'd like to curb?
P.S. Remember, mine was totally unintentional — so take a look at the big picture and see for yourself!
Author Bio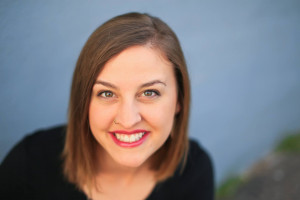 Allea Grummert is a personal finance blogger and one-on-one budget coach.
Passionate about helping others get out of debt (and stay out of debt!) by planning ahead and setting goals, she claims, "Living within your means doesn't have to suck."
Follow her blog to learn more about how you can maximize life's experiences through smart personal finance and simple living.